Destination:
Algarve Golf Holidays
,
Portugal Golf Holidays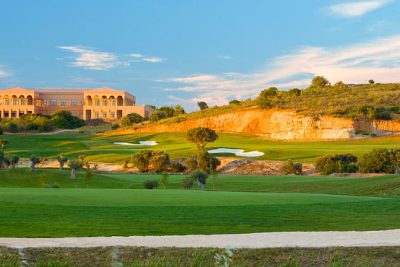 Dom Pedro Vilamoura Golf Clubs
Dom Pedro Old Course
Situated in the heart of Vilamoura a mere 20 minute drive from Faro airport, this Frank Pennink designed parkland style layout is one of the oldest in the region and renowned all over the golfing world. Often described as the Grande Dame of Algarve courses, it meanders throughout impressive pine trees – the principal hazard – over gently undulating natural terrain. Although it opened in 1969, the course was completely renovated and modernised 27 years later although no major changes were made to the magnificent layout.
Dom Pedro Pinhal Course
This was the second golf course built in Vilamoura and inaugurated in 1976, having originally been designed by Frank Pennink, the architect of the nearby DP Old Course.  Several refinements were incorporated over the years, the most significant one by Robert Trent Jones Sr. in 1985. The course is typified by rolling parkland terrain covered with numerous umbrella and Atlantic pines that line many of the fairways and a few even stand out on fairways or near greens.
Dom Pedro Laguna Course
Laid out over low lying coastal terrain, this course, with its many water hazards and few trees, is considerably different from the other ones in Vilamoura and many of its holes convey a links atmosphere. U.S. golf architect Joseph Lee designed this course which opened in 1990 and many previous visitors will recognise it as part of the former 27 hole Vilamoura III course. It has been subject to continual improvements over the years.
Dom Pedro Millennium Course
This conventional par 72 course opened in the year 2000, although the original back nine was formerly part of the 27-hole Laguna Course. Refurbishment to the existing nine holes commenced in May 1999 and included the complete rebuilding of the tees, greens and bunkers, particularly for holes 8 and 9, the only ones on this loop with water hazards, with the aim to simplify the strategy of the course to make it more golfer-friendly.
Dom Pedro Victoria Course
The DP Victoria , which covers some 90 hectares, is the most recent golf course project of Arnold Palmer in Portugal. As one of the best and most sophisticated golf courses in Europe, every care has been taken to ensure the preservation of the wetlands and the typical vegetation of carob, olive and almond trees. Several lakes, occupying 13 hectares, provide mirrors of water and strategic reservoirs for irrigation.
Faldo Course
Designed by Sir Nick Faldo with strategic play in mind this 6598m par 72 championship course demands careful positioning to score well. In a modern twist of a traditional recipe, cacti and wild herbs replace the role of Sunningdale's heather, spartan Holm oaks and ancient olive trees take the place of a lush English woodland, and desert scrub bunkers of crushed limestone replace Berkshire's sandy tracts in a golf course that revels in the classic principles of strategic play.
O'Connor Jnr Course
Designed by Christy O'Connor Jnr., this course complements the neighbouring Faldo Course and also takes full advantage of being situated in a fertile valley. Its various water features, both lakes and watercourses that are spread throughout the entire course, demand accuracy and test from all golfers, and the rich topsoil has been skillfully landscaped and planted with mature palm trees, affording a lush, ornamental setting like an extensive oasis.