Destination:
Golf Holidays in Spain
,
La Manga Club Golf Holidays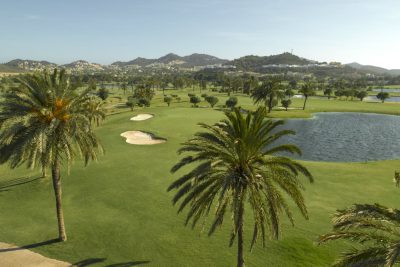 La Manga Club Golf Courses
South Course
The Championship course at La Manga Club is the South it is probably one of the fairest tests of golf one can find. At 6,499 metres from the White Tees, whilst being accepted as a top-calibre tournament course, it also provides a thorough test both for the scratch player and right across the handicap range. Located in the centre of the valley, with wide palm-fringed fairways and water hazards that come into play on 15 of the 18 holes, the South Course holds few hidden dangers.
North Course
The North Course at La Manga Club is an undulating course sprawling between palm trees, lakes and 'barrancas'. These natural storm gullies feature on all three golf courses and add an extra dimension to the game.
Slightly shorter than the South, with tighter fairways and larger greens, the North Course offers a different, yet no less challenging, round of golf. A feature of the greens, all built to USGA specification, is the amount of movement incorporated in them, none more so than the short Par 3, 2nd, which has three distinct plateau a great test of putting. Relying on precision rather than length, an added challenge is provided by the wide variety of water hazards and 'barrancas' that snake their way through the course.
West Course
The West Course at La Manga Club is set amid serene pine woodlands, the West Course's design closely follows the natural contours of the undulating land. Its distinct character makes it a good alternative to the other, more classical championship courses.
It is a deceiving course, with frequent changes in elevation with which to contend. The tight front nine demands accurate driving to avoid the 'barrancas' (natural storm gullies) while the back nine, up amongst the hills, is more open but nonetheless challenging.
The West is many golfers' favourite, both because of its unique setting and outstanding views and because of the challenge offered by its narrow fairways.
Pitch & Putt
Designed by Severiano Ballesteros this is great for sharpening your short game skills, this picturesque course comes complete with bunkers and water hazards and offers practice and enjoyment for the whole family.
The greens are beautifully manicured, with some subtle right-to-left and left-to-right putts. The Par 3s are particularly well designed, with excellent greens for putting, real bunkers and light rough around three holes. Handicap golfers will find plenty of opportunity to work on their short game skills and many find scoring the par 47 shots more challenging than expected. In addition to all this, the course is superbly landscaped with tropical palms and parkland trees, creating some great photo opportunities.