Destination:
Costa del Sol Golf Holidays
,
Golf Holidays in Spain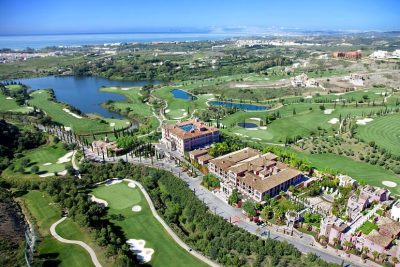 Villa Padierna Golf Club
Flamingos Golf Course
This 18 hole, 6285 yards par 71 course, was designed by the renowned architect Antonio Garcia Garrido and it boasts a pristine landscape, with lots of different varieties of trees and spectacular views of the Mediterranean Sea. The Greens are generous in size; the fairways are narrower on the first part of the course, where more precision is required than in the second; the bunkers are filled with crushed white marble sand; the fairways are covered in Bermuda, except on certain holes where grass has been used, whilst the greens and tees are covered in Penncross.
Flamingos Golf has hosted prestigious tournaments such as the European Seniors Championship in 2002, 2003, 2004 and in the year 2010 the Spanish Women's Open
Alferini Golf Course
It is an ideal course to hold large competitions and tournaments as well as to enjoy a pleasant, relaxing day. The golf course is fully integrated into the landscape, a reflection of the work that has been done to preserve nature and to take care of the environment.
18 holes, 7305 yards par 73, and four tees per hole.
Tramores Golf Course
Tramores Golf Course is nestled in a beautiful landscape between two valleys with stunning views of the Mediterranean Sea. The third course of the Villa Padierna Golf Resort, it is home to the "Tramores Golf Academy by Michael Campbell" where members can learn from experts. Tramores is a fast course and very technical yet very entertaining, ready to be enjoyed.
This is a great opportunity to improve your short game in less time than in a traditional golf course.
18 Holes, Par 63, White: 3835 yards