Destination:
Golf Breaks in Wales
,
UK Golf Breaks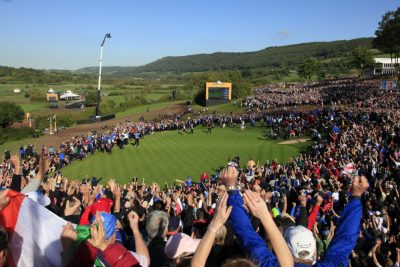 Celtic Manor Golf Resort Hotel
There are several properties at The Celtic Manor Resort, guests can choose to stay in the luxurious five star Resort Hotel, the four star 19th century Manor House or the new Hunter Lodges each hotel has its own style and atmosphere, allowing you to choose your ideal surroundings for a relaxing break.
As venue of the 2010 Ryder Cup and home of the Handa Wales Open, a leading European Tour event, The Celtic Manor Resort offers some of the finest golf courses and facilities in the UK.  These include The Twenty Ten Course, the Roman Road & The Montgomerie.
There is also a world-class golf academy featuring a floodlit driving range, practice range, indoor putting studio, golf shop and teaching bays and two luxurious golf clubhouses, The Twenty Ten Clubhouse & The Lodge with its own bar, restaurant, health club and spa.
The Resort provides complimentary shuttles around the Resort for guests to gain access to our golf courses and clubhouses.
Prices
One night's luxury accommodation with breakfast – 2022
18 holes on The Twenty Ten Ryder Cup course
Use of The Forum Health Club
Manor House Hotel

 From pp

 Monday-Thursday

 

Friday-Saturday

 

Sunday

January
         £125
       £150
  £133
February
         £125
       £150
  £133
March
         £130
       £176
  £148
April
         £148
       £202
  £168
May – July
         £163
       £227
  £193
August
         £148
       £202
  £168
September
         £163
       £227
  £193
October
         £148
       £202
  £168
November – December
         £125
       £150
  £133
Celtic Manor Hotel

 From pp

 Monday-Thursday

 Friday-Saturday

 

Sunday

January
          £141
    from £177
   £156
February
          £141
    from £177
   £156
March
          £146
    from £203
   £171
April
          £164
    from £229
   £191
May – July
          £179
        £254
   £216
August

          £164

        £229

   £191

September

          £179

        £254

   £216

October

          £164

        £229

   £191

November – December

          £141

        £177

   £156

One night's luxury accommodation with breakfast – 2022
18 holes on The Montgomerie
18 holes on Roman Road
Use of The Forum Health Club
Manor House Hotel

 

From pp

 Monday-Thursday

 

Friday-Saturday

 

Sunday

January
          £104
    from £147
  £125
February
          £104
    from £147
  £125
March
          £112
    from £153
  £129
April
          £118
    from £183
  £135
May – July
          £128
        £205
  £145
August
          £118
        £183
  £135
September
          £128
        £205
  £145
October
          £118
        £183
  £135
November – December
          £104
        £147
  £125
Celtic Manor Hotel From pp

 Monday-Thursday

 

F

riday-Saturday

 

Sunday

January
          £120
    from £162
  £148
February
          £120
    from £162
  £148
March
          £128
    from £174
  £152
April
          £134
    from £186
  £158
May – July
          £144
        £206
  £168
August

          £134

        £186

  £158

September

          £144

        £206

  £168

October

          £134

        £186

  £158

November – December

          £120

        £162

  £148
 Other offers available please contact us for details 
Special Offers
One night twin sharing at the Manor House Hotel
with two rounds of golf on Montegomerie & Roman Road golf clubs
from £104 per person