Destination:
Belek Golf Holidays
,
Golf Holidays in Turkey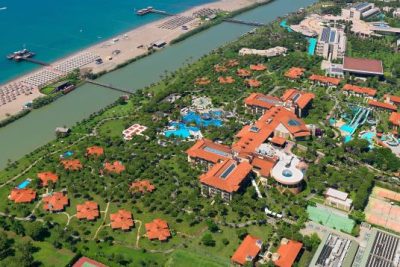 Gloria Golf Resort Hotel
Golf holidays at the Gloria Resort and Hotels are one of the best known brand in Antalya, with hotels in a beautiful location between the Taurus Mountains and the Mediterranean coast. Gloria Golf is one of the older hotels in Belek, but is consistently refurbished and updated, and proves itself time and again as one of the most popular hotels in the area. With its classic style, its warm, friendly ambience, and great choice of food, Gloria Golf is perhaps the most cosmopolitan of all the hotels in Belek. Enjoy the delicious buffet or choose to dine in one of the superb a la carte's to add a variety to your stay. The Gloria Golf has great animation and a very good Kid's Club too. The beach at Gloria Golf is situated just over the bridge under which the Acisu River flows – one of very few hotels to have this feature here in Belek. Gloria Golf Hotel is the most established of the three Gloria beach front hotels, and meets all the expectations of a 5 star hotel whilst still remaining an ideal location for serious golfers.
Prices
Contact us for bespoke offers?