Destination:
Golf Breaks in Scotland
,
UK Golf Breaks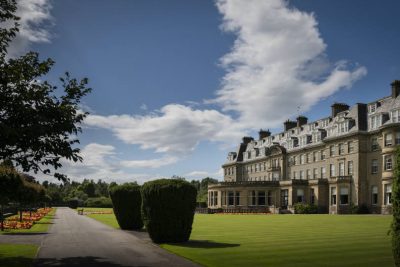 The Gleneagles Hotel
The Gleneagles Hotel is a magnificent 'French chateau' set amid gently rolling hills in the heart of Scotland. Established in 1924, the hotel was soon acclaimed 'the palace in the glens' and continues to attract those in search of rest, relaxation and exhilaration.
There are 232 rooms in the hotel, including 26 sumptuous luxury suites. Each room is individual in design and layout, with the amenities and thoughtful touches expected of a five red star resort. Guests can choose a traditional or modern approach to interior design.
Outdoors, Gleneagles makes the most of its 850 acres. Three championship golf courses are among the very best in the world; The King's, The Queen's and The PGA Centenary, host venue for the Ryder Cup 2014. Other outdoor leisure pursuits include shooting, fishing, falconry, off road driving and horse riding, as well as swimming in The Club's two indoor pools.
Prices
1 April to 30 April 2022
1 night b/b with 1 round of golf on any Gleneagles golf course
From £344 per person per night
1 May to 31 May 2022
1 night b/b with 1 round of golf on any Gleneagles golf course
From £395 per person per night
1 June to 30 June 2022
1 night b/b with 1 round of golf on any Gleneagles golf course
From £412 per person per night
1 July to 31 August 2022
1 night b/b with 1 round of golf on any Gleneagles golf course
From £487 per person per night
1 Sept to 30 Sept 2022
1 night b/b with 1 round of golf on any Gleneagles golf course
From £437 per person per night
1 October to 31 October 2022
1 night b/b with 1 round of golf on any Gleneagles golf course
From £349  per person per night
Special Offers
Special offer
1 night b/b with 1 round of golf on any of the Gleneagles golf courses
From £344 per person