Destination:
Belek Golf Holidays
,
Golf Holidays in Turkey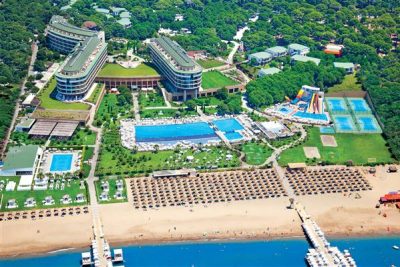 Voyage Belek Golf & Spa Resort
Golf holidays at the Voyage Belek Golf & Spa Resort is more than ready to prove itself to the demanding European golfers. A truly superb hotel for a very good price, Voyage has many different room types on offer, but as long as there is availability will prioritize upgrading their golfers free of charge in the winter. The hotel has a 24 hour bar perfect for golfers, with a really fantastic selection of imported beverages included in the All Inclusive concept. A delicious patisserie in the main Voyage hotel building is a treat not to be missed. Voyage Belek also has a separate adult pool and adult restaurants, which is great for those wishing to escape the more family orientated atmosphere of many hotels during the school holiday breaks. During the construction of Voyage Belek Golf & Spa, natural habitat was preserved, leaving most of the trees intact. You can see one of those preserved trees inside the reception building.
Prices
Contact us for the best offers in Turkey?
Special Offers
Contact us for best prices in Turkey?