Destination:
Costa de la Luz
,
Spain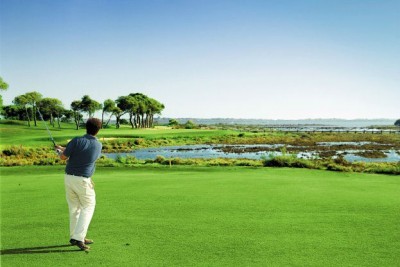 El Rompido Golf Clubs
The El Rompido Golf Clubs is by its strategic location, one of the preferred golf destinations in Andalusia. The pleasant weather conditions Costa de la Luz enjoys all year round and the fact there is direct access from the hotel to El Rompido Golf Club (within the same grounds) make a good choice for a full golfing holiday.
With 36 holes designed by Alvaro Arana and set in a spectacular natural environment, and a modern clubhouse, work of the architect Juan Antonio Foraster and the designer Ana Calderon, El Rompido is one of the best golfing locations in Spain. There are two courses, the South Course built in 2003 to USGA specifications, and the North Course, built three years later and now ranked among Europe's top 1,000 courses.
The North Course located in the upper section of the complex, it is a true challenge for all lovers of modern golf. Intelligently laid out, it is a truly enjoyable course in full contact with nature as it is located right in the heart of the nature reserve of the River Piedras Wetlands and Flecha de El Rompido. This course requires both length and accuracy from the golfer and, even though a great amount of fore thought is required, the course is not above any player's level. In fact, the greens are sized to ensure that the most adept and even the less experienced golfer will fully enjoy their round.
The South Course borders the clubhouse and is perfectly integrated into the environment to facilitate the walk round. The front and back nine differ as regards technical level required and also with respect to the landscape. The greens are of note, and some are considered to be among the fastest in Andalusia. Due to the mixture of tropical and winter grass, players find the fairways lend a great sense of comfort to their game.