Destination:
Tenerife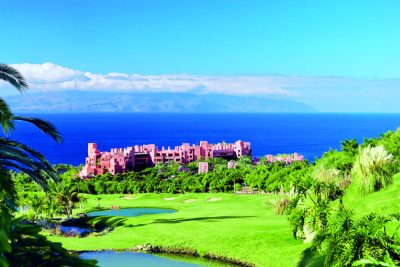 The Ritz Carlton Abama Hotel
The award winning Ritz Carlton Abama Hotel is situated in the tranquil enclave of Guía de Isora, the resort in Tenerife, Spain exemplifies the delicate harmony that can exist between man and nature. From its highest point upon the smooth slopes of The Teide, to its exclusive stretch of sandy beaches.
At the Canary Islands hotel, lush vegetation flourishes throughout our majestic, Moorish-inspired hotel grounds, imparting an entrancing floral fragrance to the fresh ocean air. Under the shining sun, our gardens add cheerful warmth, while in the evenings they create an air of romance and mystique.
The meticulously maintained grounds feature one of the finest golf courses of all of the luxury resorts in Spain, which boasts stunning ocean views and a challenging terrain. Off the course, our world-class spa soothes the mind, body, and spirit with an array of pampering treatments derived from the purest botanical ingredients.
The Canary Islands' fertile volcanic landscape also inspired two Michelin-star winning restaurants, M.B and Kabuki. There, guests feast on inventive Basque or Japanese menus that highlight the unique flavor profiles of every carefully selected ingredient.
Here is  the link for the new ABAMA GOLF VIDEO.
https://www.youtube.com/watch?v=ZyybfMgtbt0