Destination:
Belgium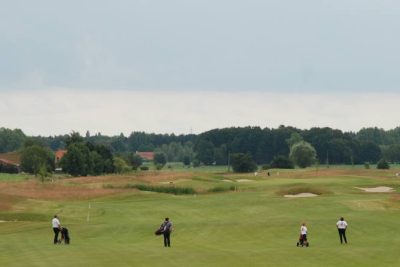 Damme Golf & Country Club
The Golf Club was formed in 1987, first playing only on our attractive 9 hole short course (Compact Course), the main course opened a year later.
In 1994 the club was bought by two well-known Flemish families, with the goal of making Damme a top club here in Belgium. A club where everybody, both members and visitors feel like part of the family and Damme is their home. So began many changes, upgrading of all the sportive and social facilities. Today the historical Stockman's farm is the very heart of our club. After your round , it is the ideal place to rewrite your golf history, or just enjoy our traditional hospitality, sampling some of the wonderful food and drinks that makes Belgium famous.
The 18 holes Championship Course, meandering through the Flemish Polders, is a challenging 6223 meters (6805 yards) from the back tees and a very playable 4563 meters (4990 yards) from the front tees.  The course demands a good strategy from all levels of players, as you stroll between trees and water hazards, rewarding your good shots whilst quickly punishing any mistakes. The new 9 hole "President's Nine" designed by the well know Belgian architect Bruno Steensels, was opened in the summer of 2014 and has the feel of a "Links Course" as you play along the valleys between sand hills. Water hazardsare present on all the holes and the course is very much a "riskand reward" course, forever tempting you to attempt shots that are on the limit of your capabilities. The 9 holes measures 3204 meters and played as an 18 hole course 6408 which is over 7000 yards.
The 9 hole Compact Course, is a short course measuring 1146 meters, an ideal course for a quick 9 holes to improve the short game, as well as being the perfect course for those taking their first steps in the golf world.
All 3 courses are maintained with the well being of our nature in mind and deserve the title of "The Pleasure of Golf and Nature Together".