Destination:
Belgium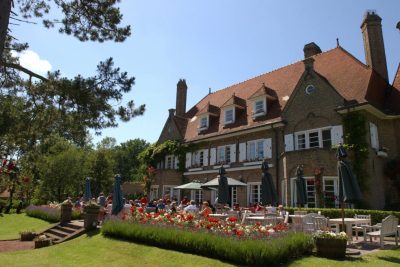 Royal Zoute Golf Club
Golf was first played on Royal Zoute Golf Club at the turn of the century in 1899. Originally an off-shoot of the Bruges Golf and Sports club, it continued under the management of that club until 1909, when the two clubs agreed to separate and it became the 'Knokke Golf Club'.
The Knokke Golf links originally consisted of 18 holes and were considered, at that time, to be excellent laid out and remarkably variable.
From the very beginning the British influence has been prominent and since 1909 all the captains have come from across the Channel. The first captain, in 1909, was Capt. F.T. Bacon. The 'Compagnie Het Zoute' continued to invest and in 1909 built the Clubhouse on the Binnenhof, on the highest dune, so that it had a sea vista.
The English players nicknamed the villa 'monkey house' because of the climb to reach it. The villa remains to this day – close to the back tee of the 15th (championship course) – and is now known as 'Dennenhul' (pine hill).
When it had been in existence for over 25 years, His Majesty the King, through the good offices of the then president, Sir Maurice Lippens, graciously allowed the club to assume the title of Royal in 1925. After the Second World War, an Englishman, Lieutenant Colonel Allen, drew up plans for two links courses which became the existing par 72 Championship Course and the par 64 Executive Course.
Many distinguished players have played at le Zoute, amongst them Henry Cotton, Arnold Palmer and General Haig. Additionally, the club has several times been honoured by visits from the Royal Family – King Leopold and King Boudouin.